These Nike retro kicks might not be for everyone but I'm definitely a big fan because they take me back to my early days as a young sneakerhead. I used to cut out pictures from Sports Illustrated to get a look at all the dope sneakers NBA players were wearing during the 80's and 90's and then post them all over my walls like some sort of crazy sneaker collage. Yes, I was out of my mind and it's probably what led to my sneaker addiction but it was cool at the time.
Actually, who am I kidding? If I didn't have the wifey telling me what I can and can't post on the walls at home, I'd still be doing the same thing today.
Anyway, the Nike Air Alpha Force II's are one of those shoes that I vividly remember since I had a few pictures of Charles Barkley (circa 1988) rockin' them on my wall . They are a little chunky like a boot but it suited Barkley since that was his style. The velcro strap and the white, red and blue 76ers color scheme is what really makes this shoe work. It really doesn't look like any other shoe that was created during that time or since. They just capture the late 80's shoe game perfectly, in my opinion.
The Nike Air Alpha Force II Retro Charles Barkley 76ers Edition is available at your local House of Hoops or you can snag a pair now at
Osneaker.com for $120
.
More Pics after the Jump...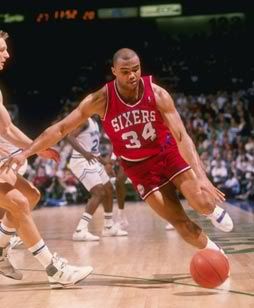 DjRyB.com