Serena Williams has a tendency to flip out at line judges and umpires during matches but this is INSANE! I would not want to be within a 5 mile radius of her when she is pissed off like this. She would potentially tear your head off your body with your spine still dangling off the back like a Mortal Kombat finishing move. She is a freakin' BEAST!
The best part was when she was flipping out about to the umpire and claiming she did not say "I'm Gonna Kill You" to the line judge but didn't seem to think their was anything wrong with the rest of her tirade which went something like this:
"I swear to God I'm [F'n] going to take this [F'n] ball and shove it down your [F'n] throat, you hear that? I swear to God."
I wasn't able to find the full transcript but she continued yelling and pointing at the line judge who may have shit her pants in the process. I would be scared as hell if she came running at me too. I'm pretty sure she could be a starting Linebacker in the NFL right now. Freakin' diesel!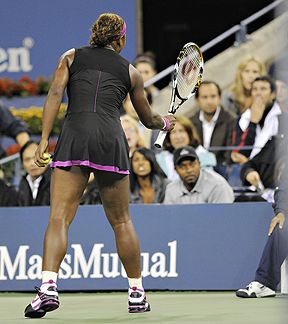 DjRyB.com