You gotta love Rasheed Wallace. This is exactly why I have been waiting for the Celtics' season to start. I was obviously looking forward to seeing how he would play with the rest of the team but I really couldn't wait for some classic Sheed quotes. We are only three days into the season and he's already in top shape.
Currently, the
NBA is in a lock-out with the National Basketball Referees Association
and there doesn't seem like there will be an agreement any time soon. The NBA has said they will move forward with replacement referees for the start of the season. As we all know, Rasheed Wallace has had his fair share of "issues" with refs over the years so getting a few choice quotes out of him didn't prove too difficult. Here's what
Gary Washburn of the Boston Globe
got out of him with what I'm sure was minimal effort:
Rasheed Wallace was quite candid Monday about his issues with officials, he of the 296 career technical fouls and 24 ejections.
On potential replacement officials: "I know there's going to be a lot of stupid star calls like it is with the old refs, so I don't there's going to be too much change."
Do you think the replacement refs will be fair?
"I hope so. Of course I know they are going to come in all happy-go-lucky 'Oh I have Sheed Wallace a tech tonight, ha ha ha.' But I could care less about that. As long as we go out there and win, if I'm on the floor, oh fine. If I'm not on the floor, I think guys are still talented enough on this team with their high IQ to get that W."
Can you actually have discussions with officials or do they tune you out?
"There are a few officials that I can talk to but there are a few officials that if I look at them the wrong way or breath too hard are going to call a tech. It all depends on that official on how they feel all night."
Classic Sheed! Man, this is going to be a fun season!!!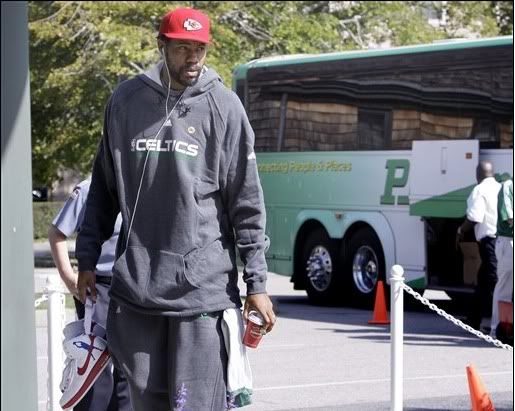 I saw this picture the other day of Sheed making his way into the gym during the first day of training camp. What's with the Kansas City Chiefs hat? Isn't he from North Carolina? I guess they didn't have a team when he was growing up so maybe that's who he roots for but it just seemed random.
It also looks like Nike hasn't hooked him up with a new colorway of his custom Air Force Ones that he wears every year. He's still rockin' the Pistons colors! That's not cool. I'm sure he'll have a new pair soon enough but I thought that was a bit strange. WTF is Nike waiting for? I'll definitely pick up a pair in the Celtics colorwat if Nike makes them available and I'm sure any sneakerhead or Celtics fan in the Boston area woud do the same. Put them out!!!
This is obviously a Sheed dedicated post so I might as well throw the kitchen sink at you. I'm looking forward to stuff like this in the videos below.
Rasheed's Trick Shots (DUDE IS MONEY!!!)
More Rasheed Wallace videos after the jump including some of his classic technicals and ejections.
DjRyB.com