If you've been to DjRyB.com in the past month or so you've probably noticed the ad I'm running in the right hand column for TuneUp Media. TuneUp is an iTunes application that allows you to clean up your library of music "automagically". If you've ever downloaded a song from a sketchy file sharing site, then you are probably missing a lot of song and album information (aka metadata) or it might just be labeled incorrectly all together. You might also be missing album art and although you can add that manually, if you have thousands of songs like I do, it would be very time consuming and frustrating to do it that way.

TuneUp loads on the right hand side of iTunes and can be minimized if needed. In order to fix songs or album art, all you need to do is highlight them and drag them to the right hand column or you can have TuneUp search for them automatically.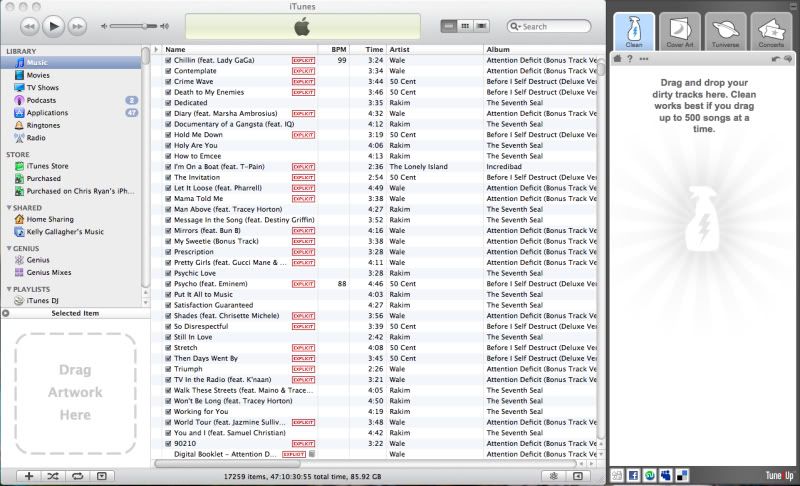 Along with cleaning up your iTunes library, TuneUp also has some nice extra features that you might find useful. Once you press play on a song, the "Tuniverse" tab searches for relevant content from around the internet. You can see in the screenshot below that YouTube videos and relevant Twitter posts show up in the first few sections.


As you scroll down further, you can find Bio information on artists, buy albums from Amazon, merchandise from eBay and even concert tickets in your area. I downloaded the application and was cleaning up my iTunes library in minutes. It was basically plug and play and worked exactly as advertised. TuneUp definitely saved me from having to do all of this manually which would have taken forever. Nothing wrong with that!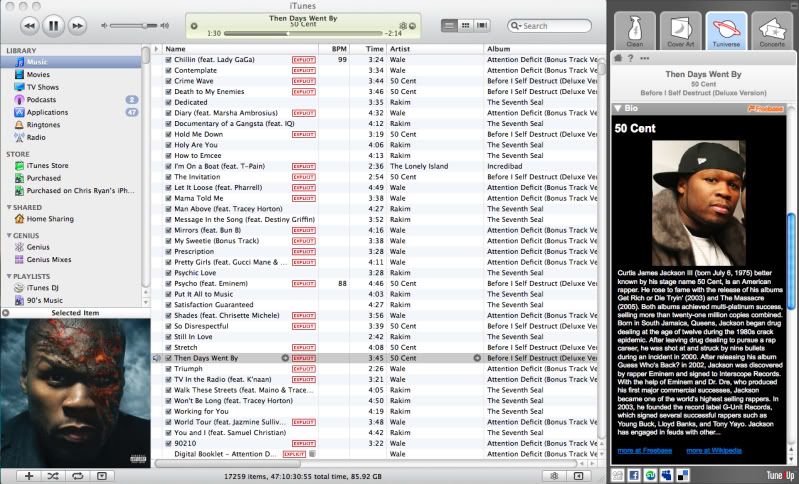 TUNEUP GIVEAWAY CONTEST & RULES:
The people at TuneUp Media were nice enough to offer me three free copies of TuneUp to give away to the readers of DjRyB.com so I've decided to run a simple contest that I think you all will enjoy. I've been planning on doing another Old School Hip Hop Mix for awhile but I've been dragging my feet so I need some new motivation to make it happen. This is it!

Here are the rules and they can't get any easier. Just leave me a list of 5-10 Old School Hip Hop songs in the Comments Section that you would like to see on a new Dj RyB mix. I'm looking for older tracks that were hits about 10+ years ago or so that people have forgotten about or that you rarely hear in the clubs or radio. I've made a couple of Old School mixes in the past and won't be repeating any of those songs so please check out the song lists at my podcast site: www.truemixtapes.podomatic.com.

The best 3 lists of Old School songs will be picked by me and will be used on a future mix. The contest will end on January 31st, 2010 (or until I get enough entries) and winners will be notified via email so make sure you leave your email address in your post in the comments section.

If you have any questions, feel free to hit me up at DjRyB@DjRyB.com. Good luck!



DjRyB.com - Addicted to Sneakers, Sports, Hip Hop and Gadgets