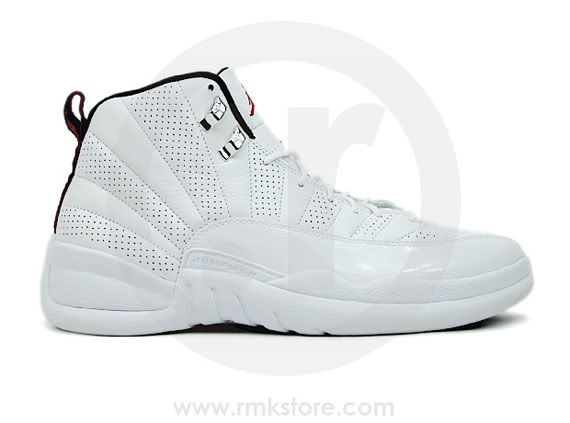 I posted about the Air Jordan XII a few weeks ago but I just wanted to give you all the heads up that the Air Jordan XII Retro "Flu Game" & "Rising Sun" are currently in stores and still very available, just in case you haven't been to a mall recently. You never know how well Jordan Retros will sell these days so it's nice to actually see them on the store shelves once in awhile. Both would make a great gift for your favorite basketball player, Jordan freak or sneakerhead.

I got a first hand look at both and I was very tempted to buy them right there on the spot but I didn't exactly have $300 burning a hole in my pocket. The black and red "Flu Game" joints are very nice. Jordan fans are about 50/50 on whether or not they actually like the new version of this classic, however. The upper consists of Nubuck as opposed to the original black leather which is causing some people to pass on the purchase but I have to admit it looks nice up close.

It's not an exact retro of the original which some people were hoping for but I think it's better than not having it at all. They look good to me and I don't think there is anything wrong with doing a slight remix. It will help people who own the OG's keep their value which is always nice.


Jordan Brand added a logo on the side to commemorate the year (1997) and points (38) Jordan scored on the Utah Jazz in Game 5 of the 1997 NBA Finals while playing with the flu. They also added a sick looking smiley face which is kind of funny and annoying at the same time.

I'm not going to break down the Air Jordan XII "Rising Sun" since I already did it here but I figured I would hit you off with a few more pics.



It's nice to be able to walk into a store and actually by a pair of general release Air Jordan's for once. It sucks that a lot of people are going to have them but at least you don't have to stand outside the store waiting for them to open like you do with some Retros. Once in awhile it's nice just to get the shoes you want without the extra effort or cost.

You can pick up both now for $150 at your local sneaker retailer or check out the online retail spots like Finish Line. It looks like all sizes are still available so there is still plenty in stock.


DjRyB.com - Addicted to Sneakers, Sports, Hip Hop and Gadgets