FUUUCCCKKK!!!!
This is NOT GOOD for the Celtics. I thought and assumed KG would be back and ready for the playoffs to help the Celtics compete for back to back NBA Championships but now it sounds like he may not even play one minute.
Doc Rivers was interviewed on WEEI this morning
and he said "it was likely that Kevin Garnett would not be available to play at all in the playoffs."
http://www.boston.com/sports/basketball/celtics/extras/celtics_blog/2009/04/rivers_garnett.html
Wow. That is just a serious punch to the nuts. I think I might be puking blood in a few minutes. I can't believe this is happening. All of my hopes for the playoffs just crashed into a barrier and flipped over a cliff. Now I am hoping we can just make it out of the first round.
The Bulls are a sneaky team and could give the C's some serious match up problems without KG. They kind of remind me of the Hawks from last year because they are young and athletic and can give the older Celtics some problems if they can play at their uptempo pace. They made the Celtics look dumb back in March when the
Bulls beat them 127-121 and John Salmons had a career high 38 points
. Ugh.
(Video from the original Garnett injury on February 20th in Utah)
It seems like Jalen Rose had a feeling this injury was much worse than the Celtics originally let on when it happened back in February. The video below was from the night of the injury. It's almost like he knew what was going to happen and could see the writing on the wall. It makes me sick listening to this now. I am officially in a shitty mood...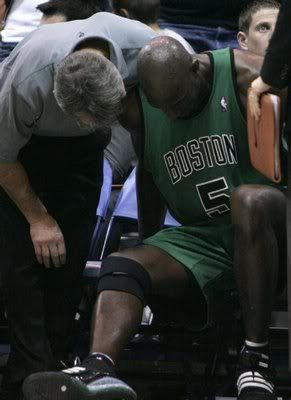 DjRyB.com