Another freakin' OT game? Are you kidding me? This series is officially out of control. I can't take this stress anymore! How is this only Round 1?!?! I feel like this series has been going on for weeks!
I have no voice this morning and I probably gained a couple hundred new grey hairs from flipping out during last night's game. I was lucky enough to attend the game but being there actually increases the stress to another level that you just can't deal with sometimes. The Garden was on fire last night in all the right ways. Everyone was cheering at the right times without the need for the JumboTron to tell them what to do and they were also booing the shit out of the refs after all of their awful calls.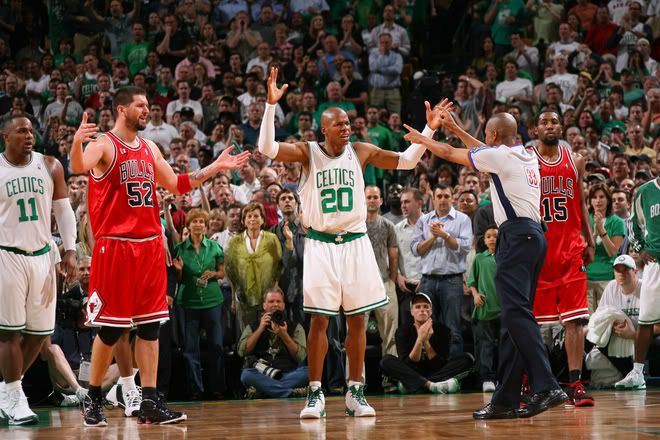 I still don't understand what the hell happened with that awful double foul call on Ray Allen that caused him to foul out. I looked down for two seconds to grab my beer and I missed it. Of course the terrible JumboTron operator refused to show the replay so I had no idea what was going on. Now that I've seen the replay, I am even more pissed off about that call. Absolutely terrible! There were so many other questionable if not awful calls but it's tough to remember them without seeing the replays on TV. That is always one of the disadvantages of being at a game live.
Paul Pierce was back in "the zone" and luckily took over the game in the last few minutes of overtime to finish off the Bulls. I never felt comfortable for one second during this game though. I can't stand the offense that the C's are still running at the end of games which is basically walk the ball up the court, have Pierce post up at the top of the key or three point line and then watch him take a fade away jumper with 5 seconds left on the shot clock. That is a terrible offensive strategy but of course it looks great when it works like it did last night. It blows my mind that the Celtics haven't come up with a different and/or better strategy by now. Why was Rondo refusing to go to the hoop when he got score at will? I don't get it.
Pierce is visibly tired and beat up but he can still turn it on when needed, at least for now. I wanted him to drive to the hoop so badly to get a foul and a possible And 1 but now that I think about it, I'm actually glad he took those shots. He has been awful in clutch free throw situations so I guess I would rather deal with him taking that fade away since that has become his signature move.
Every time he shot I said "Pierce, come on. Don't! NO! NO! NO! Ahhhh.....YESSSSSSSS!!!" I guess I will take it. We have to be happy with whatever works at this point. They need to end this series ASAP because I don't think I can take a Game 7. My head might explode from this madness...
By the way, BONUS POINTS go out to the photographer that took this picture of one of the hottest Celtics Dancers. Fantastic timing and a perfect angle. Bravo!
DjRyB.com