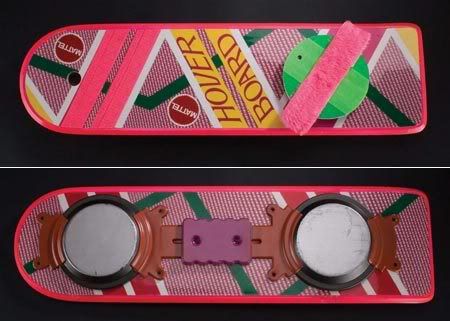 I never thought I would have a second Back to the Future II related post ever, yet alone within a few weeks of the original. First it was Kobe Bryant showing up in a DeLorean with the Marty McFly Nike Hyperdunks. Now it's the OG Hoverboard from B2F II appearing on eBay with a $30K reserve price. Shit is getting crazy, man. I don't know if I can take this. B2TF II is by far the best of the trilogy and is definitely one of my favorite movies of all time. I have seen it approximately 2,439 times and will continue to watch it every time it's on cable.

I wish this was a sign from above that there was a new Back to the Future movie in the works but unfortunately, I don't think that is happening any time soon. If it did, Michael J. Fox probably wouldn't be involved because of his Parkinson's Disease and it just wouldn't be right not to have him as the main character.

I wish we could go back and replace B2TF 3 though. I thought that version was kind of garbage with the old west and boring plot line. It just kind of ruined the whole vibe for me. I wanted more future predictions that were similar to the flying cars, auto dry clothes and auto-lace Nike's. I used to love that ish!!! I like to pretend that B2TF 3 doesn't exist and just hope that a new one will be made before I die.

UPDATE: The eBay bid for the hoverboard is already down for some reason. That's weak!!!