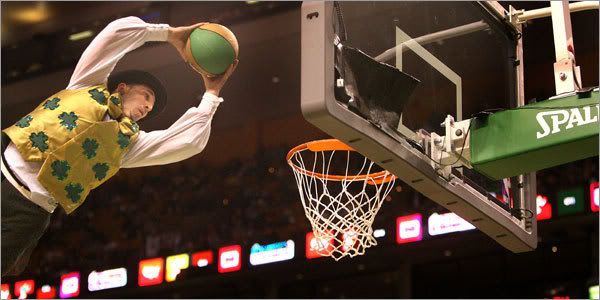 To quote the immortal Marv Albert, "YESSSSSSS!!!!!" You don't understand how happy I am right now! This is freakin' unbelievable!!! "Lucky", the awfully untalented leprechaun mascot for the Celtics will no longer be annoying fans at games this season. Woo Hoo! Pop champagne, homey!
Well, actually, I don't know if the character is gone for good or if it will be resurrected by some imposter but I pray to God that is not the case. Check this out from
CelticsBlog.com
and
Boston.com
:
"Damon Blust, the man who played mascot Lucky the Leprechaun, has parted ways with the Celtics. Sources close to the situation told the Globe's Marc Spears both sides agreed on a mutual resignation. One source said Blust missed some team appearances and didn't see eye to eye with his boss on several issues. There is no legal or personal problem outside of the arena that led to Blust's departure."
What a tool this guy is! It sounds like he thought he was too good to do this still or something. Do you really think you can get another job, guy? The only think you are qualified for is pumping my gas or working in the circus. OK, you can get some work during Halloween too but that is about it. Get a grip. This is the worst mistake you've ever made. I have a weird feeling something might have happened though. This is just too random.
Do you think he had a sexual harrassment lawsuit floating over his head from one of the Celtics Dancers? He does get awfully close to them during those trampoline dunk stunts (which absolutely SUCK, by the way). I always see him starting at the tall chick's ass and following her back to the locker room. Maybe they told him it would be best to leave now and they would keep it under wraps to save any ounce of dignity that he still had left. I imagine there wasn't much if he was doing this line of work.
Maybe he's a drunk? I think he might have been around during the Vin Baker era so they might have hit the bottle together after games or something. I mean, the life of a mascot is pretty depressing. He must have come to terms with the fact that his life is worthless. I love speculating about things I know nothing about. Shit is fun.
God I hate that character. Good riddance!!!