I don't know how these two Ray Allen Player Edition Jordan's fell under the Dj RyB radar but I guess I can't catch then all. You would think I would be up on my Celtics players kicks related news though. I need to step my game up!!!
The
Air Jordan Element Ray Allen PE
was released by Jordan Brand on June 27th exclusively at House of Hoops. It's a nice looking shoe that has some features that resemble the Air Jordan XI and XVI. I didn't like previous versions of this shoe that Ray during the 2009 NBA Playoffs because they looked kind of cheap but this colorway is HOT!!!
The high quality black leather with the white stitching and the subtle Celtic Green throughout makes this shoe a great pickup for on or off the court. The clear sole wrapped around the green herringbone and the Sugar Ray signature on the tongue looks dope too. I would love to cop these to rock at Celtics games next year to match up with the rest of my Celtics gear.
It might be too late to pick up a pair at your local store but you can some online at places like
Osneaker.com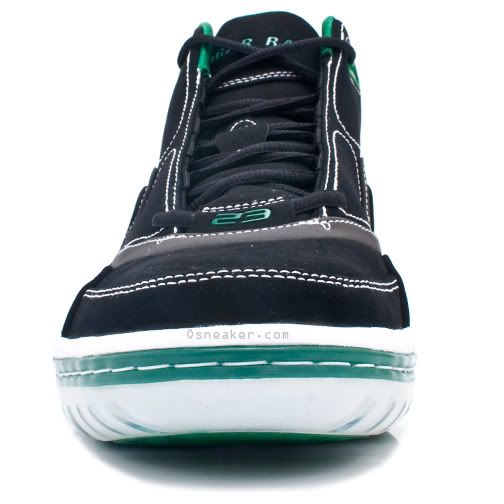 Ray has been getting a ton of attention from Jordan Brand lately. The
Jordan Schoolin' Ray Allen PE
was released on June 12th at House of Hoops locations as well. How did I miss both of these? I'm SLACKIN'!!!
Jordan Schoolin' Ray Allen PE
DjRyB.com