I always find it strange when sports superstars admit that their favorite sport is actually different than the one they get paid to play. You always assume that pros are playing the sport they love most but it's not always the case. I posted the other day about
Chad Ochocinco's infatuation with soccer
. Kevin Garnett has also admitted his love for the sport many times in the past as well and now Adidas has put together a crazy custom package to reflect that.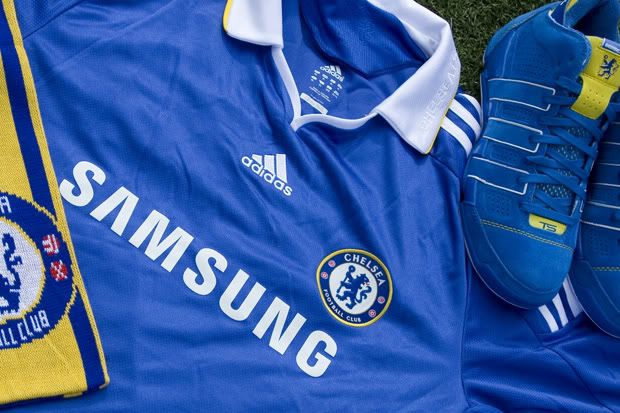 It's one thing to hear an NBA player really loves/wants to play baseball (Michael Jordan) or football (LeBron James) but it always blows my mind when I hear soccer is that sport. I have nothing against the sport itself since I do enjoy it once in awhile but it seems strange because it is so low on the sports totem pole. It's not like you can just turn on the TV and catch a soccer game everyday. I don't know. It just seems weird to me.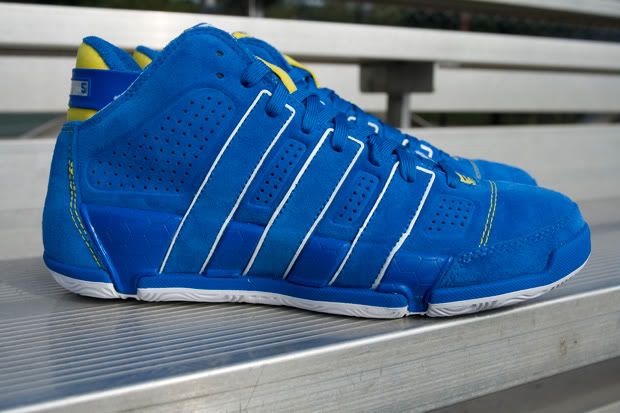 Anyway, Adidas has decided to drop a limited edition package that is based on KG's favorite team, the Chelsea Football Club. A special package will be available at Bodega Boston on August 29th and the kicks will be available nationwide on November 1st. Here are the rest of the details from
Bodega's site
:
ADIDAS BASKETBALL CELEBRATES CAMARADERIE IN SPORT BY CREATING A COMMERATIVE CHELSEA FOOTBALL CLUB SHOE INSPIRED BY KEVIN GARNETT
The TS Commander LT X KG CFC will be sold nationwide with a limited edition package available at Bodega. Following the highly anticipated US Tour of the English Premier League's Chelsea Football Club to the US for "friendly" matches in summer 2009, one loyal, yet unexpected, fan's enthusiasm has spurred the creation of a limited-edition shoe to celebrate the camaraderie of sport.
Long standing CFC fan, NBA All-Star Kevin Garnett was the inspiration behind the new CFC- themed adidas TS Commander LT. This limited edition shoe incorporates an iconic royal blue and white split suede upper, a laser etched soccer ball pattern on the midsole and CFC yellow accents, including the team's traditional lion's crest, embossed on the tongue.
EXCLUSIVE BODEGA KG x CFC PACKAGE:
Bodega will offer an exclusive CFC tribute package consisting of the TS Commander LT x KG x CFC, a CFC Bodega team scarf and CFC replica jersey featuring Garnett's name and number on the back. The package will be sold exclusively instore and in our
webshop
for $275 starting August 29th.
TS COMMANDER LT x KG x CFC NATIONWIDE AVAILIBILITY:
The TS Commander LT x KG x CFC limited-edition shoe will be available outside of Bodega, launching nationwide November 1st and will retail for $125 at adidas Sport Performance stores, Jimmy Jazz and Eurosport.
TS COMMANDER LT:
The TS Commander LT is the official adidas footwear offering for the 2009 NBA season. In addition to Garnett's CFC-themed design, his Celtics-white and Kelly-green color way will be one of three player editions for start of season launching at retail in October for $100.
DjRyB.com