If you are a sneakerhead like me, this shitty economy is probably hitting you hard. I haven't bought a new pair of kicks in at least 6 months and I have felt like a crack addict trying to kick the pipe. Every time I see a new pair of dope kicks mentioned on a sneaker site, I start to get the sweats and lose my mind.
I haven't even stepped into ANY retail store since Christmas mostly because my wallet wouldn't let me. I had to get an inspection sticker last Saturday and I got it at a gas station that is right near one of my favorite Marshall's that usually has a ridiculous selection of shoes/sneakers in their Shoe MegaShop. I figured I would check it out for the hell of it since I had some time to spare and I am glad I did. Check out what I was able to score on the cheap:
Adidas NBA Superstar "Boston Celtics"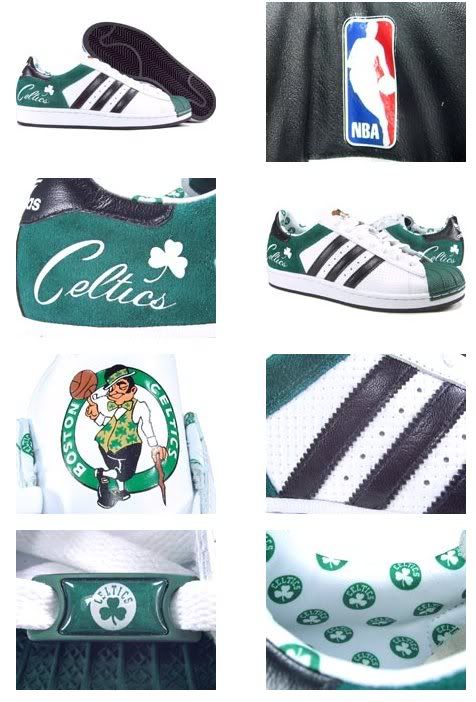 I know these are kind of ugly but I've been wanting to pick up a pair ever since they dropped last year. They were always just a little too much more than what I was willing to pay for Shell Toes, regardless of the Celtics logo and style. They usually go for $75 retail and
even as high as $89.99
but they are hard to find these days since most stores are out of stock or have shipped off their excess stock to discount spots like Marshalls.
I ended up scoring these for
$25(!!!)
after being marked down from $30. They also had a pair of the Knicks colorway but there were many more available in the Celtics version (as it should be). The Orange and Blue did look solid though...
New Balance 8508 Zip
Sticking with the ugly theme, I copped a pair of these
New Balance 8508 Zips
, as well. I needed a new pair of workout/running shoes for the gym but I didn't want to pay for a pair of Nike Shox or basically anything over $50 so my options were limited. I saw a few different colors and styles of New Balance at this Marshall's but most of them were gross or old man runner style. I need to be at least somewhat on point while at the gym, even it's really all about the workout. You gotta look fresh at all times!
I scored these for
$25
as well! WTF?!?! The Shoe Stars were all aligned that day. The best part about these New Balance was the fact that they are super comfortable (maybe one of my most comfortable shoes ever?) and actually look much better on your feet than in this picture above. They looked solid with a pair of jeans for casual rockin' as well.
I could have probably purchased another 2 or 3 pairs of various styles that I liked if I was in the mood to spend about $200 but I felt like these two were plenty to fill my addiction for a few weeks/months. The moral of the story is, if you are looking for some decent kicks, can handle a little crate digging and are willing to deal with a few crazy styles or colorways, hit up your local Marshall's ASAP. I am sure you will be able to find something to keep you happy like I did.