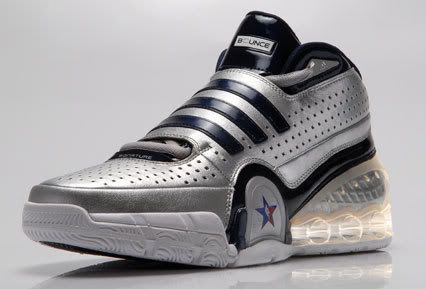 Snapshots of the new
Adidas NBA All-Star Game kicks
dropped a few weeks back but I forgot to post them up. My B. I've been slacking on my sneaker game lately, probably due to the fact that I have limited funds so my interest level is slowly decreasing. I am definitely going to try and keep up a little bit more than I have lately.
Anyway, these All-Star Edition sneaks will be worn by the usual suspects from the Adidas roster:
Kevin Garnett and Dwight Howard will rock the Silver colorway of the TS Bounce Commander
(above) while Tim Duncan will wear the uglier gold version in the second photo below. Those are defintiely on the Iron Man tip. They are out of control and I would have to be paid to wear those in public. I can get down with the silver colorway though, even though they are almost as obnoxious.
I assume Chauncey Billups will be wearing the Gold Lightning Creator which is on the left in the picture below but I don't think there are any guards on the East Squad to wear the silver version.
Is there anyone else playing in the game
that wears Adidas? I feel like I am missing someone. Oh well.