I forgot to post this earlier in the week but I'm glad I waited because I also found a sick related video of LeBron going up for an alley oop with his SHOULDER above the rim. He didn't complete the play because it was a bad pass but DAMN! That is just disgusting!!!! Oh by the way. He just happened to have 31 points at half time and 41 for the game. He has unstoppable lately. It's not even fair.

Now on to what I was originally posting about. The kicks! LeBron rocked this dope colorway of the Nike Air Max LeBron VII on Sunday night against the Portland Trailblazers. Although he wore a similar colorway with the Cavs throwback jerseys earlier this season, he took it to another level this time with one orange and one blue sneaker.


Both would be sick as a pair but I love rockin' one of each even better. It just works. I actually did something similar back in high school with my hoops kicks (Reebok Kamikazes aka the Sean Kemps!) so maybe I am biased but I love mixing it up like that. Don't be surprised if more players start imitating his style.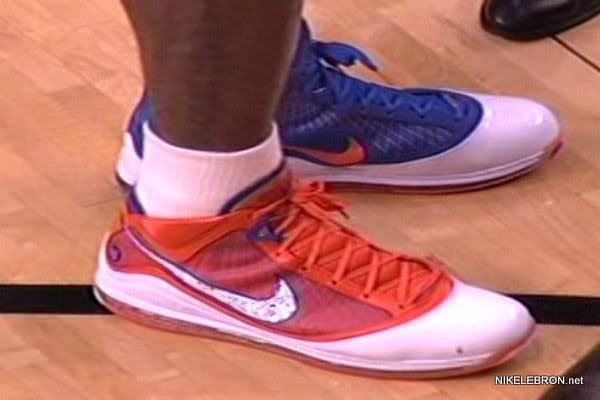 DjRyB.com - Addicted to Sneakers, Sports, Hip Hop and Gadgets