Awww shit! That's how you do it fellas! Stealing Game 1 was great but going up 2-0 on the road is absolutely huge!!! Pierce and Rondo were on fire and the C's Defense was intense once again. The Magic can't figure out how to get a good shot off and you can see the frustration in their faces. They know this series is quickly slipping away and there is a high probability they could get swept since they are headed to Boston for Games 3 & 4.

Here's an unbelievable stat that I heard at the end of the game. This is the first time in CELTICS HISTORY that they have gone up 2-0 on the road. How the hell is that possible? With all of the great Celtics teams throughout the years, that is absolutely incredible. I would have thought at least one Championship team would have pulled that off before.

Here's another one. The Celtics are 32-0 all time when going up 2-0 in a series. Wow! It sounds like Pierce heard that stat before because he is already talking smack about a sweep on his Twitter account. "Anybody got a BROOM?"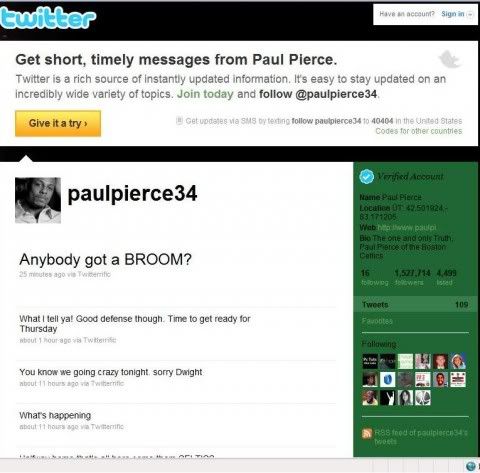 If you didn't catch Pierce's post game interview then you missed a classic. He was so fired up yet so calm at the same time. The confidence was just oozing out of him. How can you not get pumped after this?

Doris Burke: "Where is your mindset...the tendecy would be to relax up 2-0, what do you think happens in Boston?"

Pierce: "Our fans aren't gonna let us relax. Y'all aren't gonna let us relax. We gonna try to close this out in two games. Y'all hear me? We coming hone to close it out." Looks in camera and winks...


DjRyB.com - Addicted to Sneakers, Sports, Hip Hop and Gadgets