I can't believe it's been 20 years since the Reebok Pump was first introduced. I am getting freakin' old! I bought my first pair in 7th grade (the Dee Brown Omni Light's that he pumped up during the dunk contest) and from that point on, The Pump became one of my all time favorite sneakers.

Reebok has been working on a ton of dope collaborations with designers and sneaker boutiques to celebrate the 20 year anniversary which means sneakerheads will see some serious heat over the next couple of months. One of the most sought after collabos is the Bodega x Reebok Pump 20 "Outback" from Boston's best sneaker spot. They took the original Reebok Pump basketball shoe and tricked it out to create one of the most unique designs I've ever seen. Here's a quick behind the scenes video of Bodega and the design process:

As you can see from the pics, the Bodega Outback Pump has a big military/camouflage influence in the design. It's also packaged in military spec ammo boxes with camouflage netting along with a limited edition tee to finish it off right. The whole package is just unbelievable and if you can actually snag a pair of these you are going to be able to fetch a ton of money online or you will be adding one of the most original and rarest kicks ever available to your sneaker collection.


I just hit up Bodega's site to get some more details and came across this message below. Since demand has been so unreal for this limited edition shoe, they are going to be putting a Lottery system in place so that they don't have hundreds of people camping out for just 31 pairs of sneakers. Here are the details:

"Due to the overwhelming response, the Reebok X Bodega PUMP 20 "Outback" will be released on Saturday, November 21th by "Lottery Only". DO NOT CAMP OUT AT THE STORE. The Bodega "Outback" is individually numbered, specially packaged in military spec ammo box with a limited edition tee and dog tag. It will retail for $200. There are 31 pair total on the planet Earth.


To participate tickets can be picked up at Bodega during regular business hours starting immediately. One ticket per customer with valid identification.


Out of state participants can to send a self addressed envelop and copy of state identification to Bodega, 6 Clearway St, Boston, Ma, 02115.


All entries need to be entered by 6:00pm on Friday November 20th. Winners will be notified by phone and email on Saturday November 21, 2009. Eligible winners need to claim their purchase within 24 hours of notification, Bodega is not responsible for lost or late entries. Good Luck and godspeed."


More pics after the jump.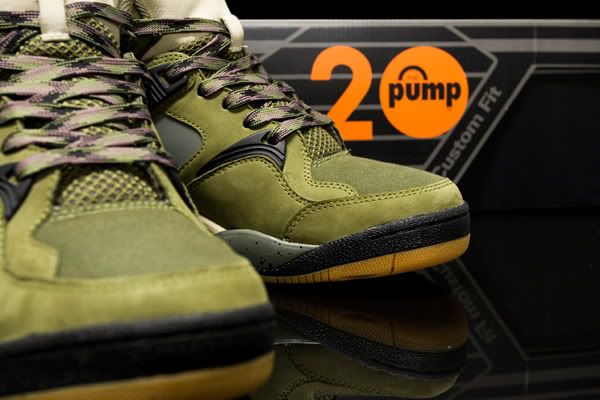 For more info on the 20th anniversary of the Reebok Pump, check out www.pump20.com



DjRyB.com - Addicted to Sneakers, Sports, Hip Hop and Gadgets