I didn't catch the Cavs/Hawks game last night but I did see the highlights this morning and all I can say is, DAMN! They absolutely DESTROYED the Hawks and LeBron had some of the best plays of the NBA Playoffs so far.
The two hand reverse in traffic, the no look behind the back pass to Wally Swegihskdlghklsdhfgiack (for a dunk?) and the insanely deep "jumper" from one step inside half court were all insane. LeBron also caught a nice "no look" alley oop from Mo Williams on the break which was pretty sick but looked way too easy. The kid is nice.
I'm obviously a huge Celtics fan but I don't think anyone can beat the Cavs right now. They are just playing with too much confidence. Their chemistry is unreal and LeBron cannot be stopped in any way. You can't even slow him down at this point. He will just run you over or jump over you. He is an absolute FREAK.
Good luck to anyone who gets them in the Eastern Conference Finals and NBA Finals. They might be unstoppable.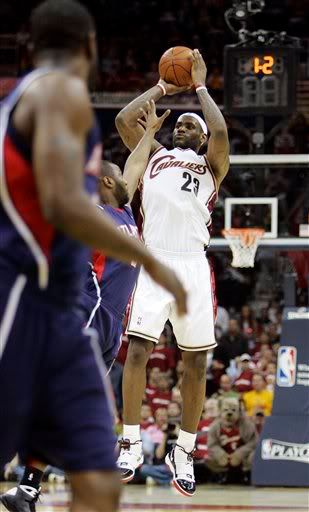 DjRyB.com