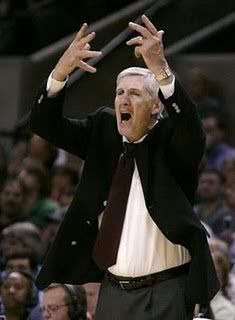 This is my first blog as I begin to help out with the site since Baby RyB is due right about now. I'm Dj RyB's little brother and you can just call me Lil RyB. Here's a little fun fact. Jerry Sloan coached the Jazz for 4 more years than I've been alive...no shit!

In case you didn't hear, he resigned from coaching the Utah Jazz yesterday afternoon. I saw something pretty crazy on the bottom line on ESPN when all this news was breaking. It said Sloan's assistant Phil Johnson (weirdly similar to Phil Jackson) has been with him and the Jazz for 18 seasons. He will be retiring as well.

Is he the best or worst assistant coach of all time? Most head coaches barely last 5 years these days but an assistant coach for the same team for that long is just insane. Assistants help out with the day to day management of the team and is usually a defensive or offensive specialist. If the team is successful then most likely, he will be sought after to be a head coach at some point. Look at Tom Thibodeau for the Celtics, as an example. The C's kicked ass the past few seasons and now Coach T is the Bulls head coach.

So what the hell happened Phil Johnson? Did you just really like Utah? How come no one came hollering for you to be the head coach over the past 18 years? It's not like the Jazz were a shitty team this whole time. Were you just a shitty coach that got lucky and landed in the right place at the right time or did you just never have the balls to become a head coach and leave your Jerry Sloan security blanket?

Anyway, that's just some of the stupid shit that comes into my head that you can enjoy reading in the near future. On a random note, I like Sloan throwin' up his signal for the triangle offense...or was he just sayin' waddup to HOVA?